Regular price
Sale price
$33.00 USD
Unit price
per
Sale
Sold out
Luna Winks is an enchanting eye cream infused with the power of clear quartz crystal. Clear quartz, renowned as "the master healer," works wonders for your skin. Experience its remarkable benefits as it aids in healing skin conditions and improves fine lines and wrinkles. What sets clear quartz apart is its ability to harmonize with other crystals, amplifying their energies to create a truly transformative skincare experience.

Luna Winks is more than just an ordinary eye cream—it's a nourishing anti-aging elixir designed to fade fine lines and wrinkles, target dark circles and puffiness, and tighten the delicate skin around your eyes. In just a few weeks, you'll witness amazing results, and with consistent morning and evening use, the transformation becomes even more remarkable over time. I poured extensive research into formulating this emulsion, carefully selecting a multitude of beneficial ingredients specifically tailored for the sensitive skin around your eyes.

Indulge in the soothing sensation of Luna Winks. This eye cream is incredibly gentle and perfectly safe for the delicate eye area. Its non-greasy formula allows for effortless application of eye makeup after use.

As a hero ingredient, Argan oil is incorporated into the blend. Not only does it nourish your lashes and promote growth, but it also targets dark circles and puffiness, making it an essential ally in your skincare routine. (Psst, It can even be used it on eyebrows!)

To add a touch of luxury and exclusivity, cosmetic-grade diamond powder is added. This powerful skin conditioning ingredient is crafted from crushed diamonds, imparting a radiant glow and evoking a celebrity-like experience.

While The Luna Goddess refrains from using artificial fragrances, Luna Winks embraces the natural beauty of 100% plant-based botanical extracts. Jasmine extract, with its delicate and captivating scent, takes the spotlight in this eye cream. Not only does it smell divine, but it also possesses incredible benefits for sensitive skin. Jasmine extract soothes redness and increases skin elasticity, among its many remarkable qualities.

Luna Winks is truly a remarkable skincare product, designed to enhance the natural beauty around your eyes. With its transformative properties and carefully selected ingredients, you will witness the remarkable difference it can make in your skincare routine. Experience the magic of Luna Winks and discover the radiant, revitalized appearance of your eyes.
Ingredients: Distilled water, argon oil, water & lactobacillus ferment lysate & camellia sinensis leaf extract & punica granatum extract & caffeine, meadowfoam oil, water & diamond powder leuconostoc/radish root ferment filtrate, pentylene glycol, cetearyl olivate (and) sorbitan olivate, palmitate (and) sorbitan palmitate (and) sorbitan olivate, isopropyl myristate (IPM), glycerin, jasminum officinale (jasmine) oil, lactobacillus ferment, lactobacillus & cocos nucifera (coconut) fruit extract, xanthan gum, konjac root, clear quartz chip
Share
View full details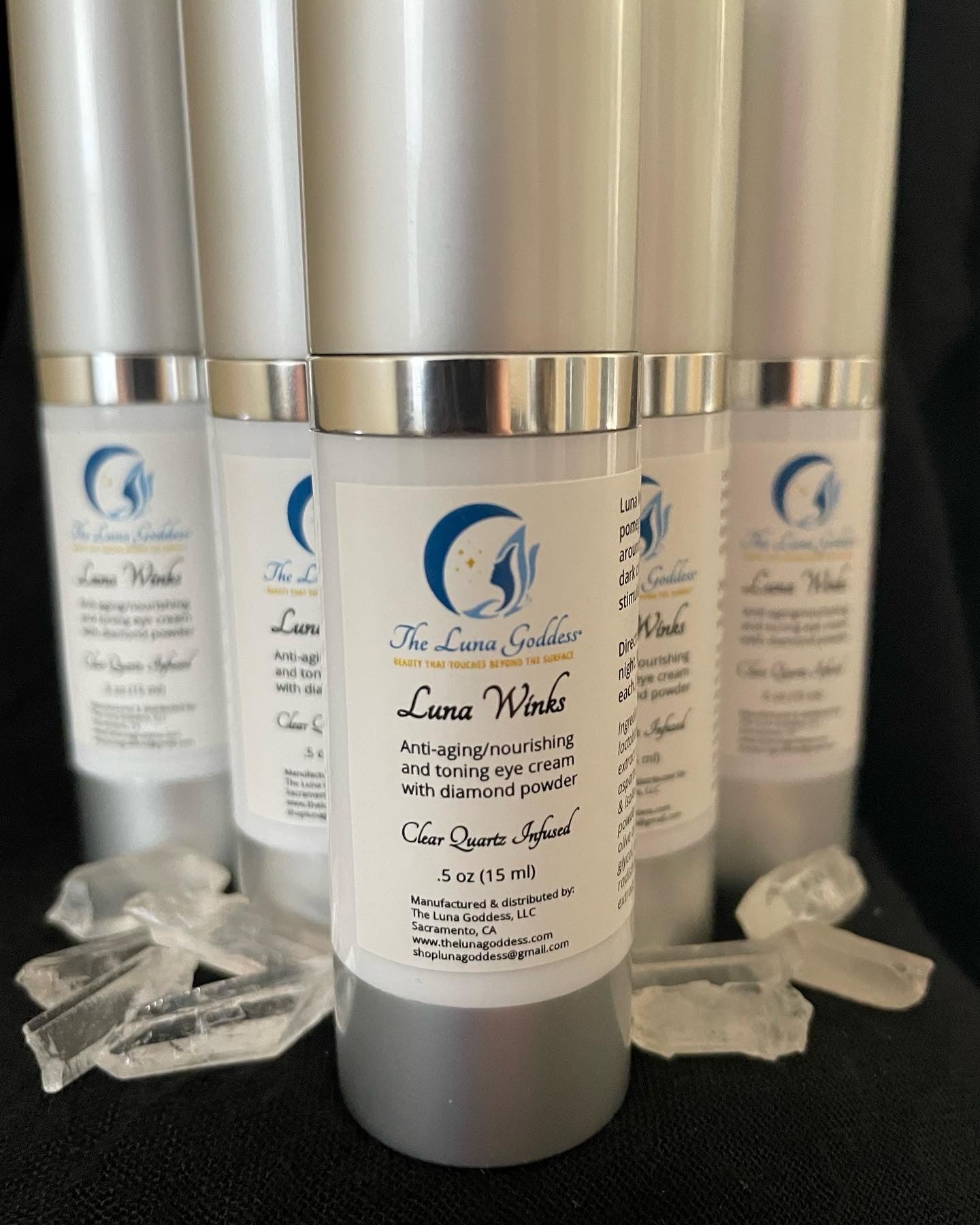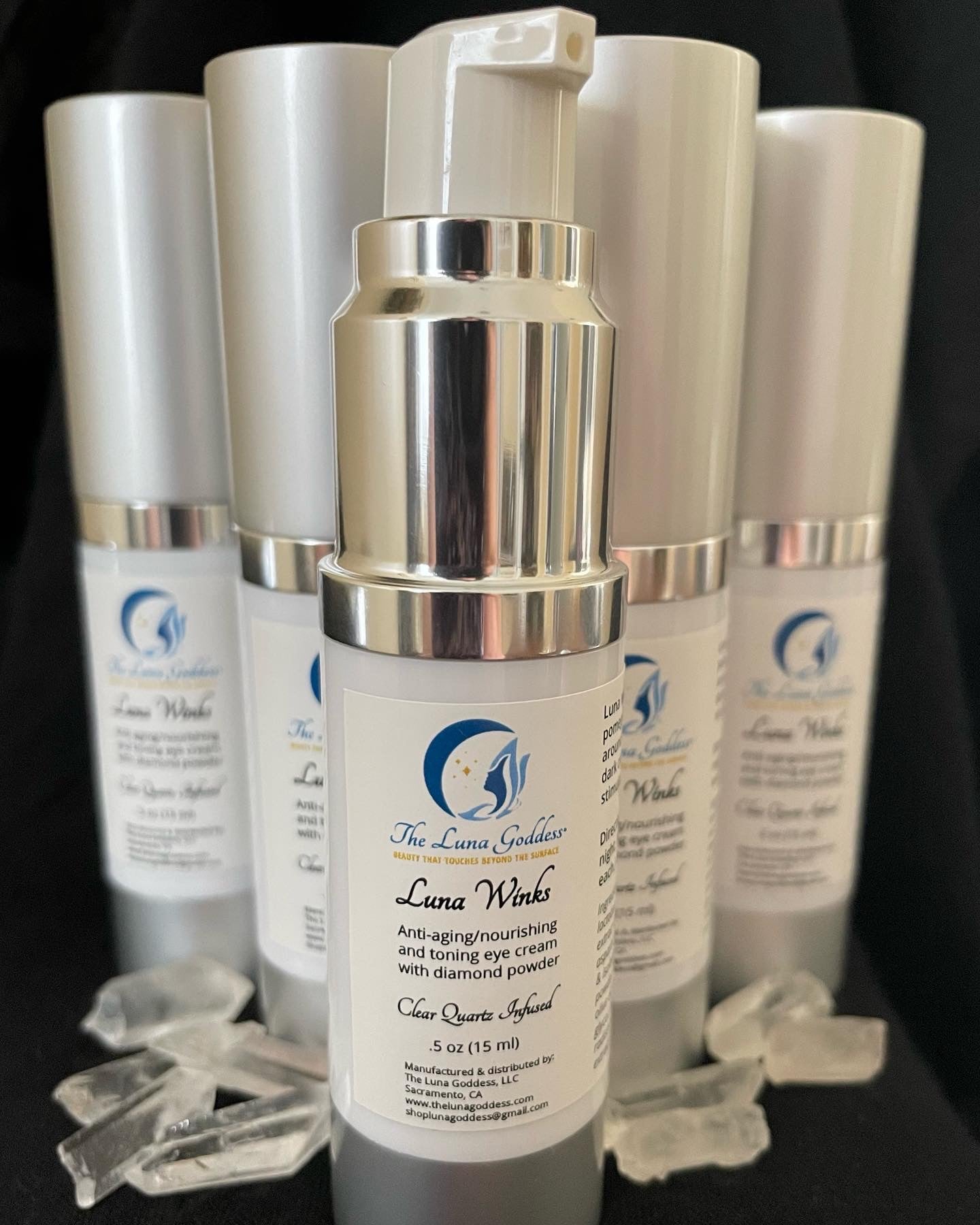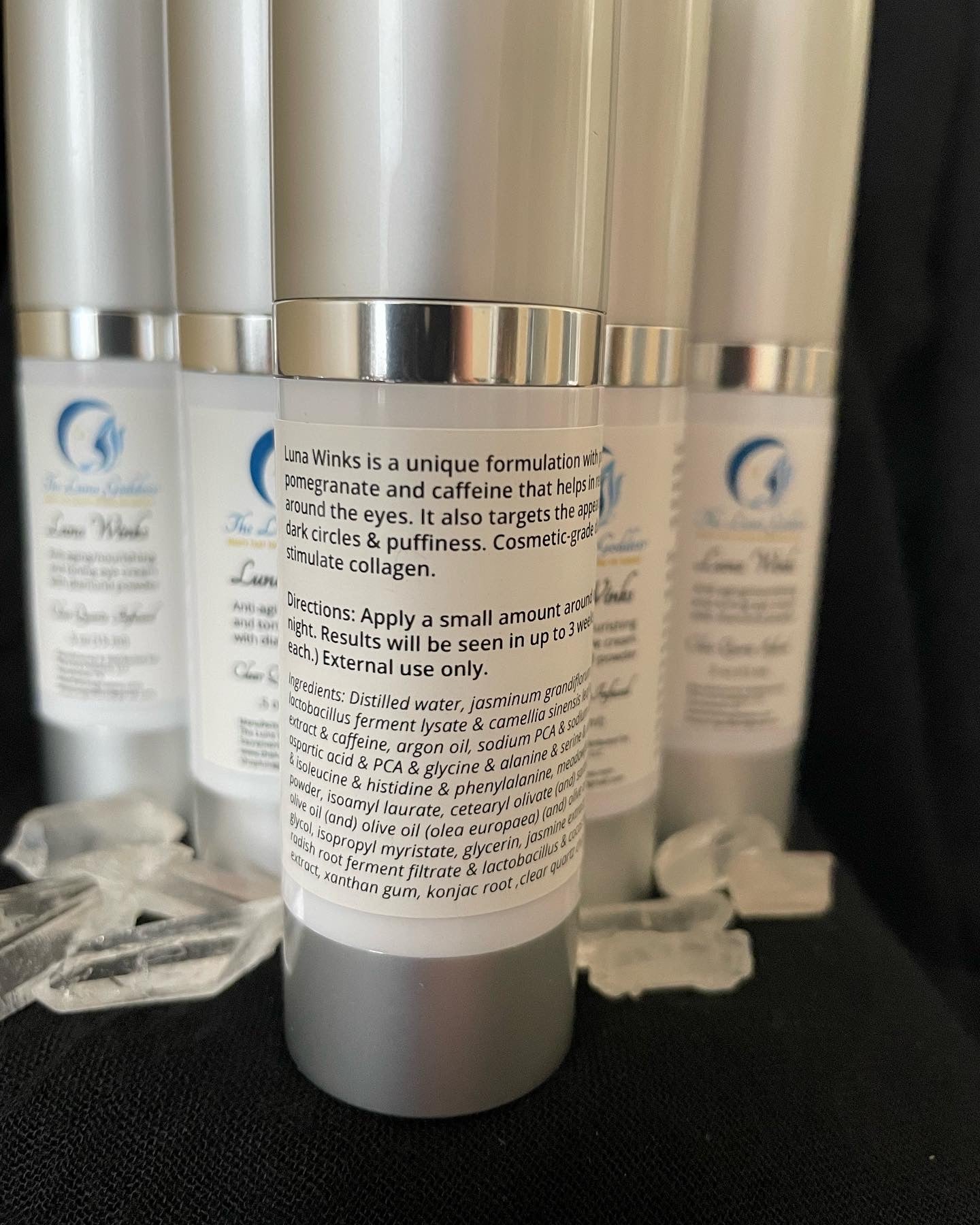 Hassle-Free Exchanges

** ORDER PROCESSING TIME: Because our products are made in small batches, please allow up to 3 days for processing time. Feel free to email us with any questions.

Please see our store policy for returns or exchanges:

Refund policy