Regular price
Sale price
$40.00 USD
Unit price
per
Sale
Sold out
The Inner Peace Wand is a mesmerizing tool that transcends the boundaries of ordinary rituals and meditations. Designed to enhance your spiritual practices, this exquisite wand brings forth a sense of clarity, harmony, and tranquility, while clearing blocked energies and elevating your spirit to new heights.
One of its remarkable qualities lies in its ability to establish a profound connection with your heart chakra, the center of love, compassion, and self-acceptance. As you wield the Peace Wand, you'll experience a gentle opening of your heart, fostering a deep sense of inner peace and nurturing your emotional well-being.
Crafted with meticulous attention to detail, this wand is a fusion of potent crystals and metaphysical elements. The ethereal essence of selenite instills a serene and calming energy, promoting mental clarity and inviting a state of profound relaxation. Dragons blood, renowned for its protective qualities, empowers the wand to shield you from negativity and enhance your spiritual journey.
The vibrant energies of crushed peridot and tourmaline infuse the wand, creating a dynamic synergy that revitalizes your spirit and promotes abundance in all areas of life. Amethyst, a stone of spiritual wisdom, heightens your intuition and strengthens your connection to higher realms, facilitating profound spiritual growth.
The copper wire, elegantly twisted and formed, serves a dual purpose. It represents rebirth, symbolizing the transformative power that lies within you, while also embodying spirituality, connecting you to the divine energies that surround us.
Beyond its inherent properties, the Peace Wand is a bearer of love and immense positive energy. Crafted with passion and care, each wand possesses its own unique character, owing to the shape and arrangement of the gems used. No two wands are exactly alike, ensuring that you receive a truly one-of-a-kind treasure.
With an approximate length of 7 inches, this wand embodies the perfect balance between practicality and enchantment. It becomes a conduit for your intentions, allowing you to channel your desires and aspirations into the universe, while attracting prosperity and good fortune along the way.
Please note that this particular wand has been sold, but it serves as a testament to the extraordinary craftsmanship and energy that will imbue your own unique Peace Wand. Discover the transformative power of this extraordinary tool, and experience the serenity and harmony that await you.
Share
View full details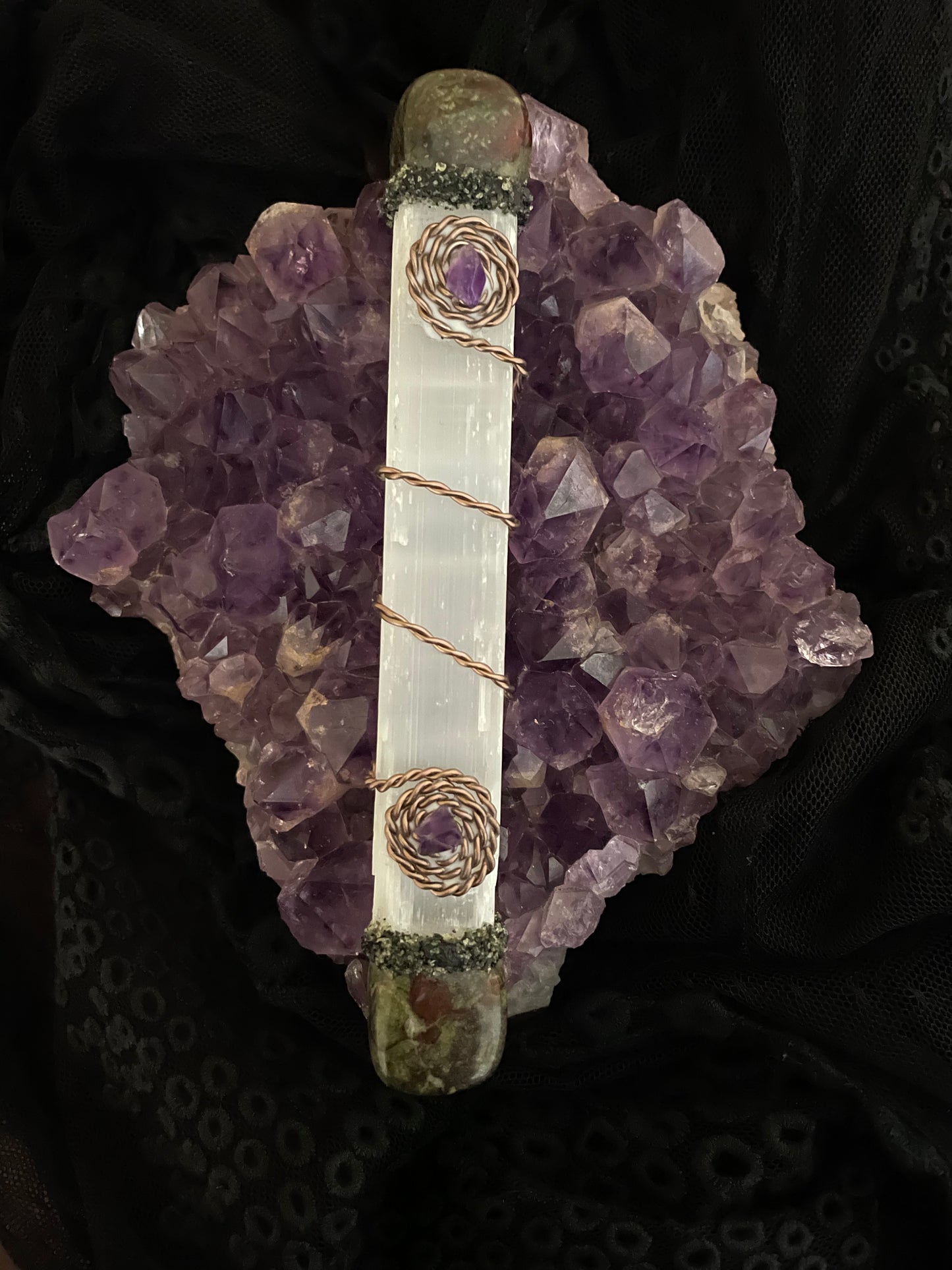 Hassle-Free Exchanges

** ORDER PROCESSING TIME: Because our products are made in small batches, please allow up to 3 days for processing time. Feel free to email us with any questions.

Please see our store policy for returns or exchanges:

Refund policy