Regular price
Sale price
$40.00 USD
Unit price
per
Sale
Sold out
Experience the ultimate relaxation and skin rejuvenation with Luna Zzz's, a luxurious night cream meticulously designed to transform your evening skincare routine into a soothing and restful experience. This exquisite blend features a harmonious combination of plant-rich oils, carefully selected for their nourishing and hydrating properties. Working together, these oils replenish your skin while you sleep, leaving it deeply moisturized and revitalized by morning.
At the core of Luna Zzz's lies a natural and non-abrasive exfoliant derived from potent willow bark extract. This gentle exfoliant delicately eliminates impurities and dead skin cells, allowing your skin to breathe and promoting a smoother complexion. Unlike harsh exfoliants, this natural alternative provides a gentle touch, unveiling a renewed radiance without causing any irritation.
Beyond its skincare benefits, Luna Zzz's embraces the power of aromatherapy to enhance your sleep experience. Infused with the calming essence of lavender, this night cream envelops you in a serene and soothing fragrance. Lavender has long been celebrated for its relaxing properties, helping to create a tranquil ambiance that prepares your mind and body for a deep and restful sleep.
To complete the sensory journey, Luna Zzz's is infused with the soothing energy of amethyst crystals. Revered for promoting relaxation and balance, amethyst brings a sense of calmness and harmony to your nighttime routine. The infusion of amethyst crystals adds an extra touch of serenity, creating a truly holistic experience that transcends traditional skincare.
Indulge in Luna Zzz's, the night cream that harnesses the power of plant-rich oils, the gentle exfoliation of willow bark extract, and the calming properties of lavender and amethyst crystals. Unlock the secrets to radiant skin and peaceful sleep as this luxurious cream pampers your senses and rejuvenates your skin night after night.
Description of Benefits of Hemp Butter (without THC):
In addition to the existing features, Luna Zzz's also contains hemp butter, a key ingredient known for its exceptional benefits for the skin. Hemp butter is derived from the seeds of the hemp plant and does not contain THC, the psychoactive compound found in cannabis. Here are some of the remarkable benefits of hemp butter:
Nourishing and Moisturizing: Hemp butter is rich in essential fatty acids, including omega-3 and omega-6, which are crucial for maintaining healthy skin. These fatty acids help nourish and moisturize the skin, restoring its natural moisture barrier and promoting a soft and supple complexion.

Anti-Inflammatory Properties: Hemp butter contains compounds known for their anti-inflammatory properties. It can help soothe and calm irritated skin, reducing redness and promoting a more even skin tone. This makes it particularly beneficial for individuals with sensitive or inflamed skin conditions.

Antioxidant Protection: Hemp butter is packed with antioxidants, such as vitamin E, which help protect the skin against free radicals and environmental damage. Regular use of hemp butter can contribute to a more youthful and radiant appearance, as it helps combat the signs of aging caused by oxidative stress.

Balancing and Regulating: Hemp butter has a unique ability to help balance the skin's natural oil production. Whether you have dry or oily skin, hemp butter can help regulate sebum production, promoting a more balanced complexion. It is non-comedogenic, meaning it won't clog pores, making it suitable for all skin types.
By incorporating hemp butter into Luna Zzz's, this luxurious night cream provides the added benefits of this exceptional ingredient. Experience the transformative power of hemp butter as it nourishes, soothes, and protects your skin, leaving you with a luminous and refreshed complexion.
Ingredients: Distilled water, lavandula angustifolia (lavender) water, red raspberry seed oil, willow bark extract, hemp butter (no THC), meadowfoam seed oil, Isoamyl laurate, konjac gum, xanthan gum, glycerin, cetearyl olivate (and) sorbitan olivate, cetyl palmitate & sorbitan palmitate & sorbitan olivate, xanthan gum (and) lecithin (and) sclerotium gum (and) pullulan, pentylene glycol, water & amethyst extract, leuconostoc/radish root ferment filtrate, lactobacillus & cocos nucifera (coconut), lavender essential oil, amethyst chip

Share
View full details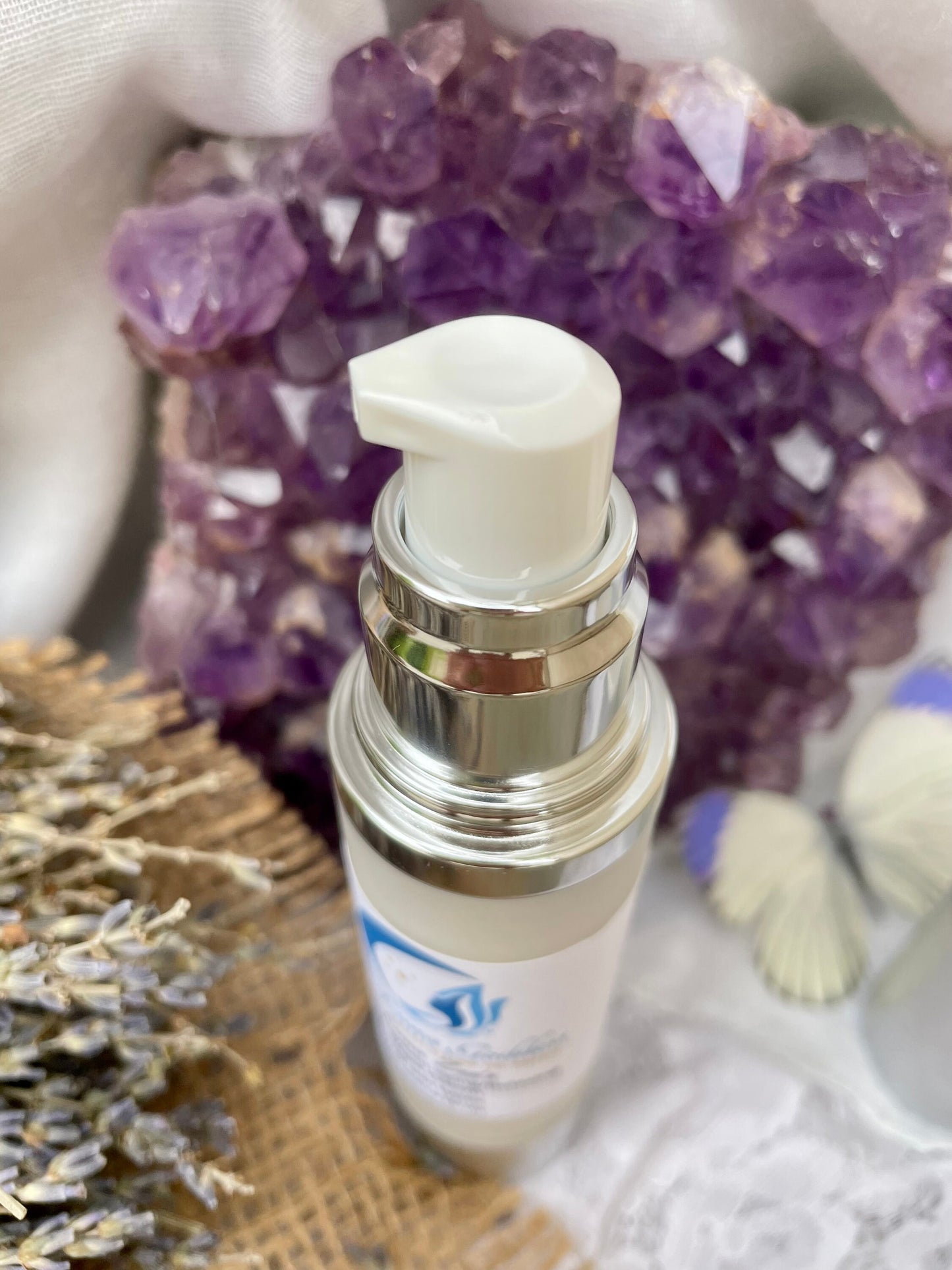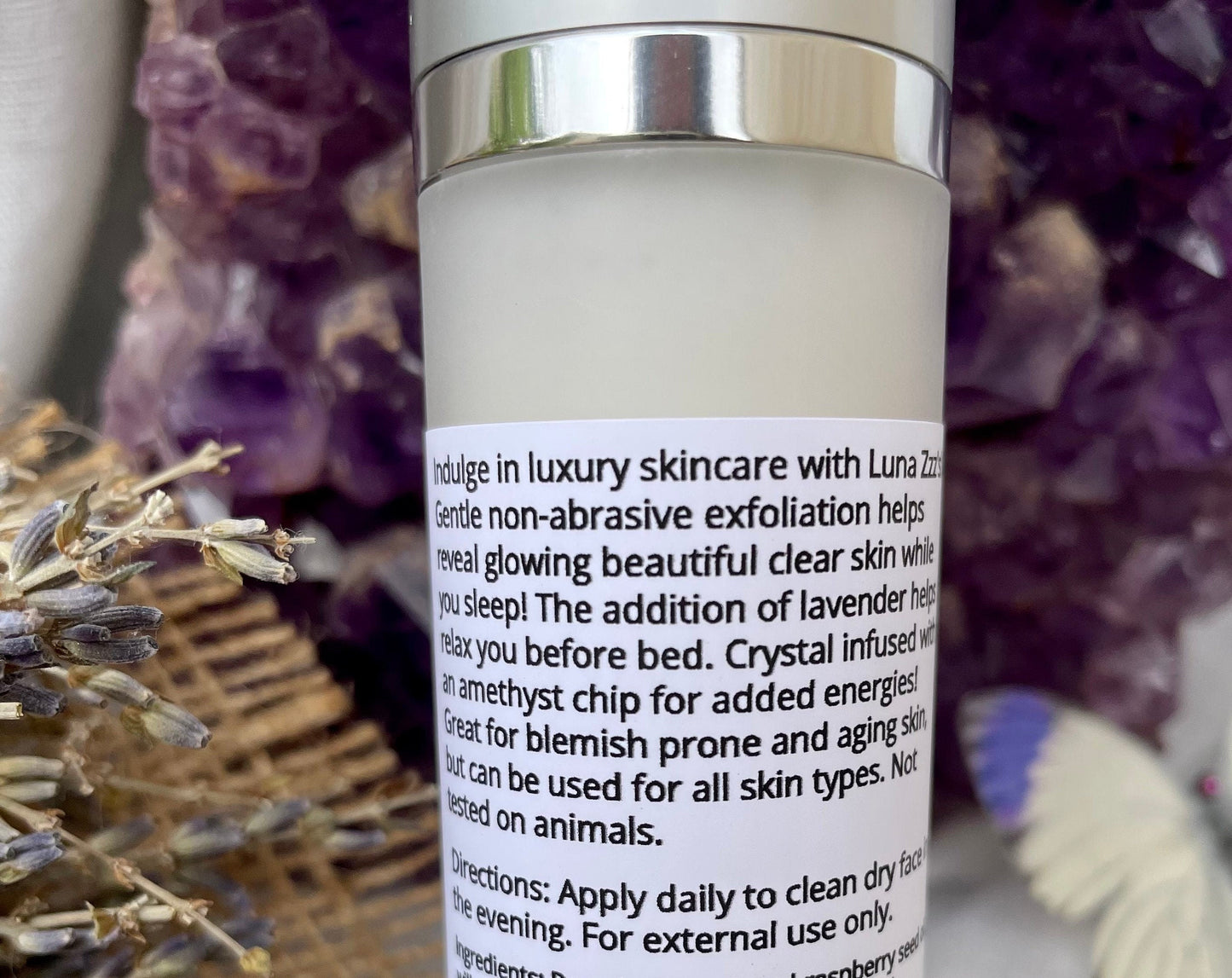 Hassle-Free Exchanges

** ORDER PROCESSING TIME: Because our products are made in small batches, please allow up to 3 days for processing time. Feel free to email us with any questions.

Please see our store policy for returns or exchanges:

Refund policy